The ABCs of Hawaiian Food
Beyond Poi and Plate Lunch:
When the first Polynesian voyagers sailed into the Hawaiian Islands on the Kahiki Nui, the crops they brought in their canoes—and the land and sea that abounded around them—provided them with sustenance for centuries.
But with the arrival of European explorers, missionaries, and plantation laborers, the native Hawaiian diet—primarily poi, fish, and fruit—radically changed, ultimately becoming a pastiche of ingredients and flavors that celebrated a broad spectrum of cultures.
For some visitors, however, experiencing contemporary "Hawaiian" cuisine rarely veers too far away from poi, poke, shave ice, and plate lunch. It's a shame, too, since while these standards are superb (and well-known for a reason), Hawaii's hodgepodge of tastes is represented in myriad flavors. Whether you're running into Foodland for a quick bite or sitting down for dinner at Ko, here's the lowdown on other Hawaiian food—and where to find the best of these grinds on Maui:
Bento
Roots: Japan
Saga:
Consider it the plate lunch of the Japanese set: Comprised of rice or noodles, protein (fish or meat), and pickled and cooked vegetables, the bento box is as common of a sight in Hawaiian school cafeterias as lunchboxes are on the U.S. mainland. Originally derived from the Southern Song Dynasty—whose slang "biandang" means convenient—the bento box was introduced to Hawaii during the sugarcane and pineapple era, when Japanese plantation workers would bring their lunches to the fields in bento tins. Now something of a culinary art, with boxes ranging from anime and manga to stunning, lacquered creations, the bento has been adapted by cultures ranging from Filipino to, yes, Hawaiian.
Score it at:
TJ Warehouse, Wailuku. Often voted the best bento on the island by readers of Maui Time, TJ Warehouse rates high when it comes to quality and expediency. Go for their more traditional Misoyaki Butterfish (in which flaky white fish is marinated in sweet miso sauce) or go big with their Special Combo—a Korean chicken, shrimp tempura, and hot dog mishmash that pays homage to several cultures.
Crack Seed
Roots: China
Saga:
Grow up in Hawaii and chances are crack seed will send you straight back into childhood. Arriving in the islands with Cantonese immigrants in the 19th century, the snack—a preserved fruit in which the kernel is enhanced with flavors—is primarily found in preserved plum flavored with li hing mui (a sweet and salty powder that decorates everything in Hawaii from shave ice to lollipops). Crack seed stores were once profuse throughout the islands—small stores, akin to candy shops, that sold the snack in giant glass jars alongside ice cream and dried cuttlefish. Inarguably an acquired taste, the "traveling plum" remains a local fave—and takes up ample room in care packages sent to locals on the mainland.
Score it at:
Camellia Seed Shop, Queen Ka'ahumanu Center, Kahului. Tucked into Maui's largest mall on the central isthmus of the island, Camellia Seed Shop offers crack seed in a variety of flavors, as well as other beloved local eats and drinks, such as their ever-popular Honeydew Boba—a Taiwanese bubble tea with a creamy finish.
Guri Guri
Roots: Japan
Saga:
Creamy and light, guri guri—a hybrid between gelato and shave ice—got its start in 1900, when Jokichi Tasaka made a batch of the "goodie-goodie" in Japan. His son, Gunji, brought the recipe with him to Hawaii, where his family has operated the state's acclaimed guri guri shop for over a century (in 2009, the Tasaka clan was awarded by the Japanese Cultural Center of Hawaii as "one of five local businesses that have stood the test of time and become inspiring stories of success").
Score it at:
Tasaka Guri Guri, Maui Mall, Kahului. Selection is slim—strawberry or pineapple—but the refreshment guri guri provides is undeniable, so much so the humble, pink-painted shop makes up to 50 gallons of the icy treat per day.
Haupia
Roots: Hawaii
Saga:
This authentic Hawaiian dessert has long served as a luau staple. Traditionally made with heated coconut milk and pia (Hawaiian arrowroot)—then chilled and served on ti leaves—its contemporary iteration, created with cornstarch, could very well be the tropics' version of America's Jell-O or France's blancmange.
Score it at::
Four Sisters Bakery, Wailuku. While haupia is served at nearly every luau on Maui, kama'aina have a soft spot for Four Sisters Bakery's Haupia Pie, in which Molokai sweet potato pie is topped with haupia and garnished with whipped cream. For the more adventurous set, pop into a local McDonald's—select spots serve a taro and haupia pie that's sinfully delicious.
Huli Huli Chicken
Roots: Hawaii
Saga:
Huli translates to "turn" in Hawaiian—and it's literal in this perennially popular Hawaiian dish. Rumored to have gotten its start on Oahu in 1954, huli huli chicken is brilliant in its simplicity—chicken barbequed over mesquite wood, typically kiawe, and basted with a sweet teriyaki-like sauce, whose original recipe was created by World War II naval intelligence office Ernest Morgado's grandmother. While the Morgado clan has never revealed the exact recipe—which Ernest trademarked as "huli huli" through the Pacific Poultry Company in 1967—different versions include ingredients that range from pineapple juice to Sriracha.
Score it at::
Huli Huli Chicken, Hana. The orginal huli huli chicken can only be (hopefully) replicated with a bottle of Morgado's top-secret sauce, but roadside stands across the islands attempt duplicates of it—just look for huge billows of smoke in the sky. Hana's stab at the recipe soars at this Koki Beach stop, where generous portions are served with salad and rice.
Kalbi
Roots: Korea
Saga:
Koreans arrived right behind the Japanese, Chinese, Okinawans, and Portuguese who came to Hawaii to work the sugarcane fields, starting with 102 immigrants in 1903 and leading to as many as 7,834 within two years. Their contributions to Hawaii have been vast and varied, from Herbert Young Cho Choy—the first Asian-American federal judge in U.S. history—to culinary treasures like kimchi and somen. And yet one of Korea's greatest contributions—at least in terms of cuisine—is kalbi. It pops up on menus posh and plain, but the recipe is generally the same: Korean-style BBQ short ribs cooked to gooey perfection with brown sugar and shoyu.
Score it at::
The Mill House, Waikapu. Award winning chefs honor this Korean staple with locally grown carrots, green papaya, macadamia nuts, and tomato.
Kalua Pig
Roots: Hawaii
Saga:
For some, the word Kalua might bring to mind the key ingredient in White Russian cocktails and chocolate martinis, but in Hawaii, the word refers to a traditional cooking method: Kalua means to cook in an underground oven, or imu—the pit you'll find at luaus across the islands. Traditionally, the entire pig was rubbed with salt and encased in banana leaves to retain its flavor before being placed in an imu lined with hot stones. Few places outside of luaus serve authentic Kalua pig—it's now slow cooked above ground—but the taste and texture aim for the original: tender and juicy, with a subtle hint of smoke and salt.
Score it at::
Poi by the Pound, Kahului. Located in Maui's retail hub, Poi by the Pound plates out Hawaiian food so hearty and authentic it's no wonder they've earned a cult following. It's also no surprise that, with an eye towards honoring real Hawaiian eats, their Kalua pig is well-worth the trip to Kahului. Go for their Hawaiian Plate to get a broader taste of the islands—the combination includes not only Kalua pig but also white rice, mac salad, and lau lau. Which brings us to our next point:
Lau Lau
Roots: Hawaii
Saga:
One of the canoe crops brought to Hawaii by Polynesians was taro—a tropical tuber that took to the Hawaiian soil like potatoes in Idaho. Prevalent throughout the Polynesian Triangle—including New Zealand and Easter Island—the simple-to-cultivate plant is not only the basis of poi but also the leading ingredient in lau lau, a dish in which succulent pieces of pork are wrapped in taro leaves and cooked until tender.
Score it at::
Lahaina Fish Company, Lahaina. Purists might balk at the suggestion here, but lau lau gets a fresh spin at Lahaina Fish Company, where fresh seafood—mahi mahi, shrimp, and scallops—is sautéed with Molokai sweet potato and spinach and served over a ti leaf with rice and haupia. Searching for the real thing? Check out Da Kitchen in Kihei or Kahului, which features the luau staple with pork or fish.
Loco Moco
Roots: Hawaii, Japan
Saga:
Loco Moco goes from fancy at the Four Seasons Maui (where it's served with quail eggs and a truffle demi glaze) to faithful at Kihei Caffe (two eggs, beef patty, brown gravy, and rice), but it's always, always a favorite. Thank Richard Miyashiro for the delectable plate: the veteran of the 100th Infantry Battalion (which was primarily comprised of Hawaii-born Japanese) invented the dish in Hilo in the 1940s, when a group of hungry teens persuaded him to fix it at his restaurant, Café 100.
Score it at::
Aloha Mixed Plate, Lahaina. Situated in the heart of one of Maui's most hopping towns, Aloha Mixed Plate was described by The New York Times as "paper plate meets million-dollar view." The venue honors both sides of the praise, with an economical menu that celebrates plantation flavors and its exquisite setting. Their no-frills version of the loco moco is beloved for that very reason, featuring homemade beef patties, steamed white rice, brown gravy, two eggs any style, and macaroni salad.
Malasadas
Roots: Portugal
Saga:
Sugarcane brought more to Hawaii than global acclaim for its growing conditions: At the start of the 19th century, laborers from the Azores and Madeira Islands began arriving in droves, and by 1911, more than 16,000 Portuguese had emigrated to the islands. Credited with introducing Hawaiians to the steel guitar, Portuguese also launched islanders' love of bean soup, sweet bread—and the deeply cherished malasada. In essence a donut without a hole, malasadas are traditionally served piping hot and dusted with sugar and/or cinnamon, but bakeries from Kihei to Ka'anapali offer them in a variety of flavors, including fillings of dobash (chocolate) and the aforementioned haupia.
Score it at::
T. Komoda Store and Bakery, Makawao. Originally a store and coffee saloon on Olinda Road, Komoda has been satisfying Mauians' yen for sweets for over 100 years. They're widely known for their cream puffs (which often sell out lightning fast), but their malasadas are equally fantastic. Get them on a stick—or pepped up with guava..
Manapua
Roots: China
Saga:
Pop into nearly any island market and chances are you'll be enticed by the sight of steaming buns in a glass case. A spin on the traditional Chinese bao—steamed bread—manapua, chewy, often salty, and delightful, are typically filled with meat (usually char siu pork) and occasionally stuffed with vegetables. Their history is as compelling as their aroma: Following the largest wave of Chinese immigration to Hawaii in the mid to late-19th century, many laborers stayed behind in the islands after their contracts ended and found new industry in cooking and selling food. As Hawai'i Magazine reports, "Food peddlers would walk neighborhoods selling snacks, including manapua, from large aluminum cans hung with cord at the ends of poles hoisted on their shoulders."
Score it at::
The Mill House, Waikapu. Ponte and his team of culinary stars revere and reinvent manapua with Chicken Bao Buns, which are served with kimchi and Korean spiced aioli.
Saimin
Roots: Japan, China
Saga:
Possibly the only state in the U.S. to offer saimin at drive-thrus (we're looking at you, Mickey D's), saimin is to Hawaii what cheese is to Wisconsin: a fundamental part of most kama'aina's palate and as ubiquitous as palms. In saimin, noodles are paired with a salty Japanese broth and offered with a variety of toppings, from kamaboku (fishcake) to SPAM.
Score it at::
Sam Sato's, Wailuku. Sam Sato's—a small venue in the industrial center of Maui's county seat—is best known not necessarily for traditional saimin (which floats in broth) but for their dry mein: fried saimin, crowned with char siu, bean sprouts, and green onions and served with a side of hot dashi broth (a keystone of Japanese cooking composed of water, dried kelp, and bonito fish flakes). Looking for a soupy variety? Check out Humble Market Kitchin in Wailea, where Roy Yamaguchi—one of the founders of Hawaii Regional Cuisine—offers saimin with pork belly, dumplings, and sous vide egg, all of which are served in a rich sesame broth.
SPAM Musubi
Roots: Hawaii, America, Japan
Saga:
Nowhere in the United States is SPAM celebrated as it is in Hawaii, with an annual SPAM festival on Oahu, 7 million cans of the stuff consumed in the Aloha State annually, and everywhere from ABC to Safeway selling bricks of this salty meat, nestled onto a bed of rice with shoyu and sugar, and wrapped in nori. SPAM became a staple during WWII, and people of Japanese ancestry, either interned in prison camps on the West Coast or based in Hawaii, rebranded sushi by using the tinned meat in lieu of fish or veggies. The result? One of the most beloved foods of Hawaii.
Score it at::
Sam Sato's, Wailuku. Sam Sato's—a small venue in the industrial center of Maui's county seat—is best known not necessarily for traditional saimin (which floats in broth) but for their dry mein: fried saimin, crowned with char siu, bean sprouts, and green onions and served with a side of hot dashi broth (a keystone of Japanese cooking composed of water, dried kelp, and bonito fish flakes). Looking for a soupy variety? Check out Humble Market Kitchin in Wailea, where Roy Yamaguchi—one of the founders of Hawaii Regional Cuisine—offers saimin with pork belly, dumplings, and sous vide egg, all of which are served in a rich sesame broth.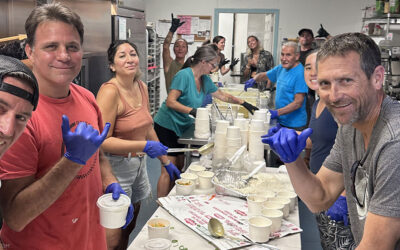 Maui Farmers, Chefs, Restaurants, Purveyors, and Community Volunteers have stepped up to feed the displaced and houseless people of Lahaina and Kula.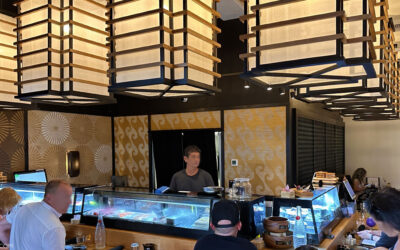 Macadangdang Maui Review. We spent a wonderful day on the West Side of Maui that finished at Macadangdang Maui in Kaanapali.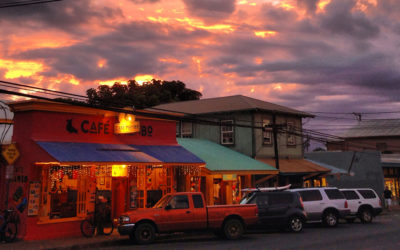 Cafe Mambo Review. Cafe Mambo in Paia on Maui's North Shore upholds the funky, artsy vibe of the town and also serves great food!