Hula Grill Restaurant Review
We recently had the pleasure of dinner with friends at Hula Grill, in Whaler's Village, Kaanapali. The Hula Grill is perfect for young and old visitors in west Maui, with multiple indoor and outdoor classic dining areas along with a more casual outdoor toes-in-the-sand dining area with great views of the ocean.
2435 Kaanapali Parkway
Lahaina, HI 96761
(808) 667-6636
This time, however, we sat in the semi-outdoor area away from the sand. It was nice because the sun was getting closer to setting and wasn't in our eyes.
Hula Grill has just about the best location directly on Kaanapali Beach in front of Whaler's Village (right next to Leilani's, an equally good Maui restaurant.)
HULA GRILL DRINKS
I began the meal with the Pele Mango-Rita. My only apprehension before ordering it was the possibility of it being too sweet. Much to my relief, it had the perfect amount of sweetness from the fresh mango puree. It also had jalapeño, though there wasn't enough spice. Next time I'll order it extra hot.
They have all kinds of signature drinks on the menu, including Hibiscus Hu'a, a Maui Mule, and Lime In Da Coconut.
HULA GRILL APPETIZERS (Pupus & Raw Bar)
We kind of went nuts on the pupus and ordered a ton. The highlight were the poke tacos with fresh ahi tuna, shoyu, maui onions, chili flakes, avocado and wasabi aioli in a crispy wanton shell. TO DIE FOR! We also got the charred short rib, sashimi ahi, lobster, shrimp and scallop pot stickers and the Hawaiian ceviche. All delicious!
HULA GRILL DINNER
Ok, so we ordered too many appetizers. I shared the Hawaiian Salt and Pepper Ribeye medium with my friend. Why can I not cook a steak this good? It was closer to medium-rare (which is why I usually order it medium), and melted in my mouth. This 28 day dry-aged ribeye comes with housemade worcestershire sauce and truffle roasted fingerling potatoes. SO GOOD! It was the perfect amount of food. I paired it with a local favorite: Big Swell IPA by Maui Brewing Company. Delicious.
HULA GRILL DESSERT
We'll have to wait till our next visit for Kimo's Original Hula Pie. We ordered too much food. Next time!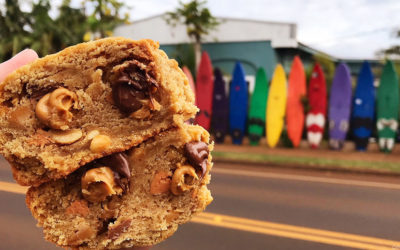 The Maui Cookie Lady Review! Quickly becoming world-famous, The Maui Cookie Lady is serving up huge and delicious cookies you must try!
Maui sushi has a reputation for being some of the best in Hawaii. Here are 10 of our favorite sushi restaurants on Maui.
Kapena's Wood Fired Kitchen Hospitality, great food, and good times are the foundation of Kapena's Wood Fired Kitchen. The chic new pizza joint on Front Street in Lahaina is a product of Trilogy Excursions. The Trilogy ohana has provided Maui visitors with delicious...
Maui Restaurant Reviews
Reviewer
Review Date
Reviewed Item
Author Rating