Macadangdang Maui Review
Our dining experience at Macadangdang Maui couldn't have come at the end of a better day. Even if it had been a typical day, we would have been just as impressed.
Fairway Shops
2580 Kekaa Dr. Unit C-1
Lahaina, HI 96761
(808) 868-0929
Macadangdang Maui
​
Arriving In Style
We pulled up to what looks like a strip mall in Kaanapali, to a classy-looking facade in a 1957 Porsche Speedster rented for the day from Maui Roadsters. We'd spent the entire Valentine's Day cruising from beach to beach on the west side of Maui. It was pure bliss!
Upon arrival, we were greeted by very sweet and attentive staff. It'd been raining off and on all day, and they were concerned about guests getting rained on. Part of the restaurant is partially exposed to weather if the wind is high enough. We sat on the covered Lanai, and even though it came down for a bit, we only experienced a few drops.
​Macadangdang Maui Food & Drink
Our server brought us some delicious and beautiful drinks while we chatted and looked around the restaurant. Macadangdang was designed with a clean, modern look. The vibe reminds us of our trips to the many cool eateries and night spots on the island of Bali.
Meals are served family style and come out as they're made, so we decided to share 2 appetizers and 2 entrees. It was too much food, but we don't regret the epic leftovers. We started with the Roasted Beet Salad with Kumu Farms greens, goat cheese, whole grain mustard vinaigrette, and slices of firm and flavorful red beets.
Our 2 entrees came out next. We immediately dug into the Half Duck Kare with eggplant, green beans, steamed white rice, and peanut sauce. Shrimp paste is brought out upon request, so I requested it. I think it takes a lifetime of an acquired taste to enjoy the paste. I'm glad I tried it though. The duck was cooked perfectly and beyond tasty. We made it through only a portion of the rice and green beans, and we didn't discover the eggplant until the next day during lunch.
The Bistek was also perfectly cooed. This grilled 12 oz ribeye steak is served with Hamakua mushrooms, grilled onions, smashed potatoes, and adobo pepper demi. The potatoes were not from this earth and too good to survive their way into the to-go box. We ordered the steak medium, and it came out perfectly pink.
​Though we were already full, the Tako Inasal made its way out a little late. Unfortunately, my wife can't do octopus, so it was up to me. This Spanish octopus confit in duck fat with spiced cauliflower, chickpea-tomato salad, and miso-tahini emulsion stole the show. It was AMAZING! I love it when tako is prepared and cooked properly. Confit in duck fat? It doesn't get better than this. The Cauliflower was firm and well seasoned, and the miso-tahini paired perfectly with everything on the dish. It was fantastic. Even on an overly full stomach, I ate every bite.
We didn't get a chance to sample their desserts, but we'll be sure to make room next time. Mahalo Macadangdang for caring enough about your decor, service, and dishes to make this one of our favorite new Maui restaurants!
We hope you enjoyed this Macadangdang Maui review. Check out our blog page for more Maui restaurant reviews.
---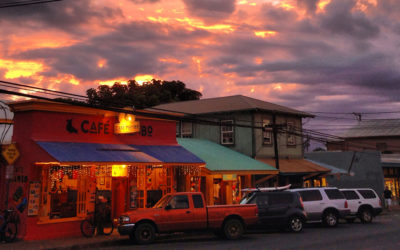 Cafe Mambo Review. Cafe Mambo in Paia on Maui's North Shore upholds the funky, artsy vibe of the town and also serves great food!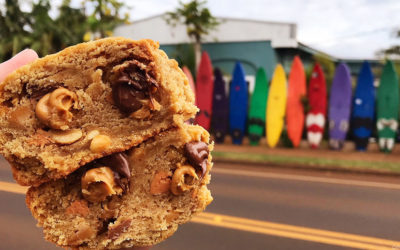 The Maui Cookie Lady Review! Quickly becoming world-famous, The Maui Cookie Lady is serving up huge and delicious cookies you must try!
Kapena's Wood Fired Kitchen Hospitality, great food, and good times are the foundation of Kapena's Wood Fired Kitchen. The chic new pizza joint on Front Street in Lahaina is a product of Trilogy Excursions. The Trilogy ohana has provided Maui visitors with delicious...
Maui Restaurant Reviews
Reviewer
Review Date
Reviewed Item
Author Rating