Restaurant Marlow Review
Chef Jeff Scheer strikes again with what we believe to be the best pizza on Maui!
They just opened in the new commercial buildings across from Long's Pukalani next to Mahalo Aleworks. Currently open daily 4:30pm – 9pm and for lunch Wednesday through Sunday 11am – 2pm. No reservations, so get there early!
30 Kupaoa Street, A104
Pukalani, HI 96768
(808) 868-3366
RestaurantMarlow.com
Having had watched Chef Scheer since the early days of Maui Executive Catering and through the years creating the Mill House Restaurant and the famous Maui Chefs Tables, our expectations were high.
And, of course, we were blown away yet again.  Chef Jeff has been experimenting with pizza for many years and landed on one of the best sourdough pizza crust recipes we've ever had.  The homemade meatballs are a must as well.  Their commitment to fresh, local ingredients shows up in every bite.
We also tried the chopped salad and little gem salad.  Everything was delicious, including the local Hawaii beers (Mahalo Aleworks is now open next door!)
With the immediate popularity, Marlow was hit with from the very first day, the kitchen crew have been through the wringer, and are now a well-oiled machine. They're able to make pizza and other dishes efficiently and quickly.  Between takeout and dining, they're putting out a lot of pies.
Our keiki loved the homemade gelato and ginger beer too. And yes, even though we're gluten-free, we handled the sourdough really well. This isn't your over-processed hybridized grains you see in most commercial establishments.  Chef truly cares about the quality of the ingredients, and it shows considering our handling the pizza without issues.
This is an impressive operation with a clean, comfortable ambiance and excellent service.  This all started with Jeff and Kaili making pizzas for friends at their outdoor pizza oven.  That same warmth and care has transitioned perfectly from their home to this beautiful restaurant.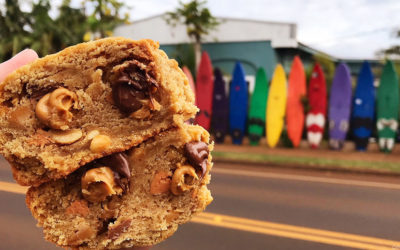 The Maui Cookie Lady Review! Quickly becoming world-famous, The Maui Cookie Lady is serving up huge and delicious cookies you must try!
Maui sushi has a reputation for being some of the best in Hawaii. Here are 10 of our favorite sushi restaurants on Maui.
Kapena's Wood Fired Kitchen Hospitality, great food, and good times are the foundation of Kapena's Wood Fired Kitchen. The chic new pizza joint on Front Street in Lahaina is a product of Trilogy Excursions. The Trilogy ohana has provided Maui visitors with delicious...
Maui Restaurant Reviews
Reviewer
Review Date
Reviewed Item
Author Rating