Sprout Vegan Cafe Review
Whether you're vegan, health-conscious, or just looking for a filling, healthy meal, Sprout Vegan Cafe in the Wailea Gateway Center has it all.
This polished cafe is one of the latest entirely plant establishments to open on Maui. What's more, Sprout is owned and operated by two young local entrepreneurs, Lily Freeman and Seagar MacDougall.
10 Wailea Gateway Place, B102
Kihei, HI 96753
(808) 793-3030
Both born and raised on Maui, certain dishes at Sprout reflect their upbringing in the islands. I tried the kimchi fries- crispy fries piled with kimchi, sriracha aioli, furikake, and green onions. They were very similar to hurricane fries, a popular local treat, and so so ono. I also took note of other local-inspired dishes like the tofu poke bowl, Huli Huli bowl, and haupia. If you are a vegan or vegetarian visiting the islands, Sprout is a great option to taste some local flavors.
Sprout offers indoor and outdoor dining, as well as take-out. The service is always very friendly, and the staff is happy to answer any questions. You'll often find the owners behind the counter or cooking in the kitchen.
One thing that especially makes Sprout stand out is its commitment to using fresh local ingredients. By using produce grown on Maui, Sprout is taking meaningful action to rely less on imported foods- and you can taste the difference in their fresh produce as well.
Sprout also hosts live music, picnic lunches, and other fun events! They are currently hiring.
Sprout Vegan Cafe is open from 10 am to 8 pm daily.  Online ordering is available.
(Please note that Sprout's indoor dining area is temporarily closed at the time of writing, and all live music events have been put on hold due to the current Maui County mandates. We hope to see things resume as usual once restrictions are lifted.)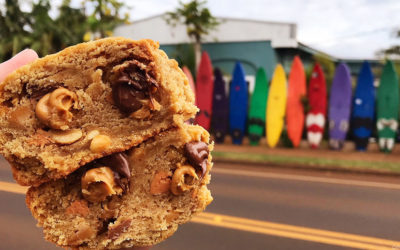 The Maui Cookie Lady Review! Quickly becoming world-famous, The Maui Cookie Lady is serving up huge and delicious cookies you must try!
Maui sushi has a reputation for being some of the best in Hawaii. Here are 10 of our favorite sushi restaurants on Maui.
Kapena's Wood Fired Kitchen Hospitality, great food, and good times are the foundation of Kapena's Wood Fired Kitchen. The chic new pizza joint on Front Street in Lahaina is a product of Trilogy Excursions. The Trilogy ohana has provided Maui visitors with delicious...
Maui Restaurant Reviews
Reviewer
Review Date
Reviewed Item
Author Rating