Chicken Watch: Best Local Restaurants For a Chicken Sandwich on Maui
Your guide to finding the best Maui chicken sandwich.
Whenever a new fast food chain opens on Maui, it causes quite a stir. Ribbon cuttings receive statewide news coverage. The mayor is almost always in attendance. Meanwhile, drive-through lines become so flooded with vehicles that traffic spills onto the street and causes gridlock for a mile.
This was the case in August 2022, when Raising Canes and Chick-Fil-A opened two days apart— within a half mile of each other on Hoʻokele Street. Ten years ago, this street didn't exist. Today, it is home to Safeway, Taco Bell, Lowes, Target, Petco, Domino's Pizza, Verizon, Starbucks, and now Chick-Fil-A, Raising Canes, and soon, Sonic.
While big businesses come with their share of boons, studies show that roughly 70 cents of every dollar spent at a local business stay in the community, versus 40 cents spent at a non-local business.
So, next time you get a hankering for chicken, try out one of these phenomenal local businesses instead of rushing off to Maui's shiny new franchises. You might find your new favorite dish!

BEST CHICKEN SANDWICHES ON MAUI
Tin Roof – Spicy Chicken Sandwich
360 Papa Place, Kahului
Tues-Sat; 10 am – 8 pm
In central Maui, Tin Roof's Spicy Chicken Sandwich puts Chick-Fil-A's to shame. This sando features a hulking double-fried chicken filet squashed between a brioche bun with salted cabbage and spicy aioli. You'll have to wait in line to get your hands on one (after all, Tin Roof is owned by Top Chef star and James Beard finalist Sheldon Simeon), but this sandwich is well worth it.
Wing Kings Maui – Nashville Sando
30 Alahele Place, Kihei
Mon-Sat; 11am – 8pm
Wing Kings Maui is the undisputed king of chicken in Kihei. Try their homestyle Nashville Sando: hand-breaded chicken thigh, pickles, Nashville hot sauce, and fry sauce on a brioche bun. Or, opt for a plate of wings with one of Wing Kings' 20 sauces.
Down The Hatch – Lava Lava Spicy Chicken Sandwich
658 Front Street, Lahaina
Daily; 7:30am – 1am
DTH's signature Maui fried chicken sandwich is coated with melted cheese, tucked into slabs of Hawaiian sweet bread, and smothered with spicy Lava Lava sauce and ranch. Alternatively, if you're not a fan of spice, go for DTH's chicken and waffles— which can certainly be considered a sandwich.
Keyakiya Maui – Chicken Katsu Burger
Kahului Harbor, Kahului Beach Road
Wed – Sun; 10:30am – 4pm (3pm on Fri)
You can't miss Keyakiya Maui. Operating out of an orange food truck on Kahului Beach Road, Keyakiya serves authentic Japanese comfort food. Go for the chicken katsu burger: tender, breaded Japanese katsu with slaw on a freshly baked bun. Don't forget to add hurricane fries!
Vons Chicken Maui – Crispy Fried Chicken Sandwich
43 Laa Street, Kahului
Daily; 10am – 8:30pm (Sunday 11 am – 5:30 pm)
The Crispy Fried Chicken Sandwich from Von's in Kahului doesn't need fancy ingredients to stand out. Instead, Von's keeps it simple, topping their fried chicken sandwich with lettuce, tomato, onion, mustard-mayo sauce, and a sesame bun.
---
BEST LOCAL MAUI CHICKEN DISHES
Maui Fresh Streatery – Double Fried Garlic Furikake Chicken
21 Laa Street, Kahului (subject to change)
Check Instagram or Facebook @mauifreshstreatery for hours
Maui Fresh Streatery boasts what might be the best fried chicken in Hawaii. Double fried chicken thighs, drizzled with unagi sauce, topped with green onions and dusted with a little (or a lot) or furikake. This dish is elusive: Maui Fresh Streatery's food truck is only open on select Fridays from 5-8 pm, and the fried chicken isn't always on the menu. If you see it, get it!
Thai Mee Up – Lemongrass Chicken
591 Haleakala Highway, Kahului
Daily; 10 am – 8 pm
Thai Mee Up's Lemongrass Chicken is bursting with fresh flavor. Chicken thighs are marinated in a medley of fresh herbs and spices, lightly coated in flour, then deep fried. The result is a tangy, not-at-all-greasy delight. The dish is complemented with white rice, green papaya salad, and homemade sweet chili dipping sauce.
Fond – FFC Family Bucket
5095 Napilihau Street, Lahaina
Wed – Sun; 11 am – 9 pm (Sun 10 am – 3 pm)
Forget KFC; Fond's family bucket is where it's at. This combo meal comes with 12 pieces of fried chicken, eight buttermilk biscuits, a caesar salad, baked mac and cheese, brown gravy, and a spread of dipping sauces.
Kaleis Lunchbox – Furikake Mochiko Chicken
591 Haleakala Highway, Kahului
Wed – Sun; 10am – 4 pm
Mochiko chicken is an island staple, and Kalei's knows it well. Their chicken is marinated in slightly sweet mochiko batter, deep fried, and topped with furikake. The heaping plates come with white rice and mac salad.

Aloha Braised – Volcano Chicken
58 Kupuohi Street, Lahaina
Mon – Wed; 10 am – 2 pm
This food truck's menu is lined with all sorts of eye-catching dishes, but the Volcano Chicken is a fan favorite. Mochiko chicken is smothered with spicy togarashi aioli and sweet soy, topped with green onions, and served on a bed of cabbage with white rice and mac salad.
Koki Beach Huli Huli Chicken
175 Haneoo Road, Hana
Daily; 11 am – 5 pm
Huli Huli Chicken is sweet and smoky barbecue chicken. You'll often see people selling it on the side of the road. But this unassuming shack on the beach in Hana serves some of the best Huli Huli chicken on Maui. Gordon Ramsay even approved of it on his show, Uncharted.

Pukalani Superette – Chili Chicken
15 Makawao Ave, Makawao
Daily; 5:30 am – 6 pm (Sun 7 am – 6 pm)
Day in and day out, chili chicken is the most popular item at Pukalani Superette's grab-and-go hot bar. These crispy, fried chicken drumettes are tossed in Pukalani Superette's secret sweet chili recipe. The store has been open since 1955, and not once have they let the recipe slip!
Where is your go-to local business on Maui for chicken? Let us know in the comments.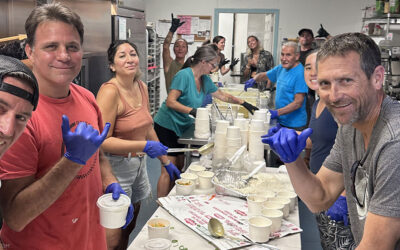 Maui Farmers, Chefs, Restaurants, Purveyors, and Community Volunteers have stepped up to feed the displaced and houseless people of Lahaina and Kula.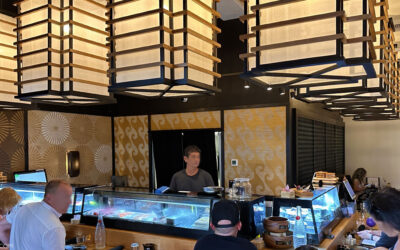 Macadangdang Maui Review. We spent a wonderful day on the West Side of Maui that finished at Macadangdang Maui in Kaanapali.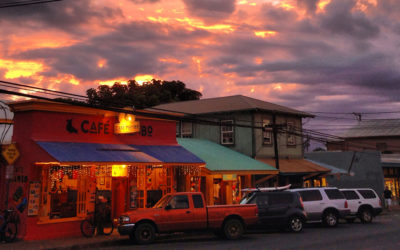 Cafe Mambo Review. Cafe Mambo in Paia on Maui's North Shore upholds the funky, artsy vibe of the town and also serves great food!