​TOP 30 MAUI RESTAURANTS
Maui's collection of high-end hotels and restaurants has attracted crops of top chefs- like literal Top Chef finalist Lee Anne Wong. Meanwhile, the island's melting pot of cultures has inspired big-name culinary stars- namely, Sheldon Simeon, Roy Yamaguchi, Jeff Scheer, and Bev Gannon. Today, new eateries are popping up across the island, whether in the form of a resort's on-site five-star restaurant or a humble food truck.
Below, you'll find a collection of our top 30 favorite restaurants.
1. Mama's Fish House
Mama's Fish House has been in operation since 1973. While Mama's is known for its ultra-fresh seafood, stunning views, and impeccable service, the restaurant itself is like a living museum. Augers from a long-defunct north shore sugar mill have been incorporated into the restaurant's design. Tapa from the owners' adventures in Samoa hangs behind the bar, and the roof in one section of the restaurant is the hull of an old ship. The Mama's dining experience is just as much about the setting and the ambiance as the food.
799 Poho Pl., Paia
Hours: 11 am to 9 pm daily
$$$$
Reservations required
2. Lahaina Grill
Located down an unassuming side street in Lahaina, this long-standing Maui establishment boasts many prestigious awards. For the last 28 years, Lahaina Grill has been voted Maui's Best Restaurant by Honolulu Magazine readers and earned a spot on Trip Advisor's 'Top 20 Best Restaurants in the US' list for four years and counting. Lahaina Grill serves new American cuisine in a modern bistro setting.
127 Lahainaluna Rd., Lahaina
Hours: 5 pm to 10 pm daily
$$$$
Reservations required
3. Restaurant Marlow
Located in the Kulamalu Town Center in Pukalani, Restaurant Marlow is the product of prominent Maui chef Jeff Scheer. Hand-tossed sourdough pizzas and classic Italian eats take center stage at this sleek establishment. The menu is lined with a handful of red and white Neapolitan pies, fired in a wood-burning imported straight from Italy. Local produce, meats, and beers from the next-door brewery, Mahalo Aleworks, are highlighted on the menu.
30 Kupaoa St., A104, Makawao
Hours: 11 am to 2 pm, 4:30 pm to 8 pm daily
$$
No reservations
4. Haliʻimaile General Store
This acclaimed eatery once served as a plantation store for pineapple workers in the area until chef Beverly Gannon took over the lease and established her first restaurant. Chef Gannon describes 'The Store' as "eclectic American with Asian overtones," and seafood is a clear focal point on the menu. Many dishes at Haliʻimaile General Store also incorporate Hawaiian-inspired flavors, underscored by locally sourced meat and produce.
900 Haliimaile Rd, Makawao, HI
Hours: 11 am – 2:30 pm; 5 pm – 8 pm, Tuesday through Saturday.
$$-$$$
Reservations recommended
5. Sale Pepe
Born from New York and Italian influences, Sale Pepe is regarded time and again as one of Maui's best, most authentic Italian eateries. Sale Pepe is characterized by its festive wine-bar ambiance and changing menu, frequently rotating to incorporate seasonal and local ingredients. However, as one might expect, pizza is a mainstay, and the artisan pies at Sal Pepe are crafted by a certified pizzaiola.
878 Front St., Lahaina
Hours: 5 pm to 9 pm, Monday through Saturday
$$-$$$
Reservations optional
6. Nuka
Nestled in the sleepy north shore town of Haiku, this intimate Japanese joint is best known for its ultra-fresh sushi. Local, fresh ingredients are hallmarks at Nuka. The restaurant relies heavily on local fishermen for fresh fish, utilizes hyper-local produce, and mills its own rice. For those not keen on raw fish, Nuka also serves a wide range of Japanese cuisines, like udon, donburi, agedashi tofu, and karaage chicken.
If you find yourself waiting for a table, head next door to Ace of Cups in the Aloha Aina Center. Full of witchy wonders like tarot and oracle decks, dream journals, smudge sticks, pendulums, crystals, magic wands, and brooms, Ace of Cups even does live readings!
780 Haiku Rd., Haiku
Hours: 10:30 am to 2:30 pm, Monday through Friday. 4:30 pm to 10 pm daily.
$$-$$$
No reservations
7. Fleetwood's On Front Street
Fleetwood's On Front Street is owned by Mick Fleetwood of Fleetwood Mac, and as such, the multi-level restaurant plays host to some of the best live music on the island. In addition to the sophisticated menu and extensive wine list, Fleetwood's rooftop bar is a decided hit. Not only is Fleetwood's a great place to enjoy a cocktail during happy hour, but mountain vistas, ocean views, and classic Lahaina people-watching abound.
744 Front St., Lahaina
Hours: 3 pm to 10 pm daily
$$$-$$$$
Reservations required
8. Star Noodle
Star Noodle is known for, you guessed it, its fresh noodles. But that's not all; this airy seaside restaurant also features a slew of Asian-inspired share plates, from bao buns to Vietnamese crepes. Noodles, of course, are the star of the show, and all ramen, udon, and saimin noodles are made fresh in-house daily! True to the restaurant's Asian roots, the drink list features a unique array of sake, Japanese whiskey, and shochu cocktails.
1285 Front St., Lahaina
Hours: 10:30 am to 9 pm daily
$$-$$$
Reservations required
9. The Gazebo
The Gazebo is a famed West Maui breakfast and lunch joint tucked within the Napili Shores Resort on prime oceanfront real estate. This airy restaurant exudes an old-school, no-frills, diner feel, albeit with a tropical twist. At breakfast, there is a wrapping line to be seated without fail. Yet, the heaping portions, friendly service, and striking views are well worth the wait.
5315 Lower Honoapiilani Rd, Lahaina, HI
Hours: 7 am to 2 pm daily
$$-$$$
No reservations
10. Flatbread Company
Located in the heart of funky Paia Town, Flatbread is known for having some of the tastiest pizzas on Maui. Flatbread's pies are made with organic, locally sourced produce, free-range meats, and are wood-fired in a classic clay oven. One of the most downright mouthwatering pizzas on the menu is the Mopsy Kalua Pork Pie- smoked pork shoulder, pineapple, red onion, dollops of goat cheese, and homemade mango BBQ sauce.
89 Hana Hwy, Paia, HI
Hours: 11:30 am – 9 pm daily. Open until 9:30 pm on Saturdays.
$$-$$$
No reservations
11. Nalu's South Shore Grill
Nalu's is the place to be in Kihei. Not only is this open-air establishment one of the hottest breakfast spots in South Maui, but Nalu's boasts live music every night from top local artists. American and island-inspired fares line the menu at this foliage fringed restaurant, including dishes like loco moco and chicken and waffles. In addition to food, Nalu's also hosts a daily happy hour from 3 to 6 pm. Despite the lack of table service (counter service only here!), the flow at Nalu's is organized and timely.
1280 S Kihei Rd, Kihei, HI
Hours: 8 am to 9 pm daily.
$$-$$$
No reservations
12. Mala Tavern
Situated on the northern end of Front Street, Mala Tavern's open-air digs overlook Mala Wharf and the calm Lahaina seas. This intimate tavern is best known for its outstanding views, daily live music, unique culinary cocktails, and Pacific Rim and Mediterranean-inspired eats. At the helm in the kitchen is local chef Alvin Savella, Maui Magazine's 2018 Chef Of The Year. Mala's well-rounded menu highlights Savella's creativity and culinary expertise, from brunch to dinner.
1307 Front St, Lahaina, HI
Hours: 9 am to 10 pm daily
$$-$$$
Reservations optional
13. Cafe O'Lei At The Mill House
Cafe O'Lei is a well-established name on Maui. Owners Michael and Dana Pastula opened the first Cafe O'Lei in Makawao in 1997. Over the years, the pair established a local restaurant empire. Today, the Pastula's own three restaurants (a fourth is rumored to be in the works), a food truck, and a catering company. Recently, Cafe O'Lei moved into the Mill House at the Maui Tropical Plantation. Classic Cafe O'Lei favorites like seared ahi, slow-cooked lamb shank, and hand-tossed flatbread pizzas are served alongside striking views of the Waikapu Valley and verdant farmland.
1670 Honoapiilani Hwy, Wailuku
Hours: 8 am to 8 pm daily
$$-$$$
Reservations optional
14. Taverna
Located in Kapalua, Taverna is a modern, spacious Italian eatery featuring beautiful ocean views, a wraparound bar, and an award-winning specialty cocktail list. The menu highlights the use of local seafood, meat, and veggies and is lined with crowd-pleasing Italian dishes like lasagna, pizza, and carbonara. This bustling restaurant is an excellent pick for brunch and happy hour as well.
2000 Village Rd, Lahaina
Hours: 12 pm to 10 pm Monday through Saturday, 10 am to 10 pm Sunday
$$-$$$
Reservations optional
15. Leoda's Kitchen and Pie Shop
Tucked in the heart of Olowalu Village, Leoda's Kitchen & Pie Shop describes its menu as 'glorified Grandma comfort food.' Leoda's is best known for its mouthwatering pies- both sweet and savory. However, this cozy plantation-style eatery is a hotspot for breakfast and lunch. Here, an assortment of sandwiches are served on fresh, housemade bread- from breakfast sandwiches piled with bacon, eggs, and avocado, to beef dip hoagies with a side of au jus.
820 Olowalu Village Rd, Lahaina
Hours: 10 am to 6 pm daily
$$-$$$
No reservations
16. Lineage
Located in the Shops of Wailea, this casual, modern restaurant revolves around the mantra "Eat, Drink, and Talk Story." The menu at Lineage honors Hawaii's diverse melting pot of cultures. Dishes here span a variety of fares- from Asian to Islander- and are served family-style. Acclaimed Chef Sheldon Simeon was once at the helm of this sleek Wailea restaurant but has since stepped back and left Lineage in the capable hands of Chef Emanuel Eng and Chef Nelson Simpliciano.
3750 Wailea Alanui Dr, Wailea
Hours: 5 pm to 9 pm, Thursday through Monday
$$-$$$
Reservations recommended
17. Down the Hatch
This casual eatery is best known for its ultra-fresh seafood, creatively presented dishes, and live music. Situated only steps from Lahaina Harbor, it's not uncommon to see fishermen rushing into the kitchen, wielding fresh-caught Mahi Mahis in both hands. However, seafood isn't Down the Hatch's only claim to fame. Not only did Down the Hatch catch the attention of Guy Fieri, but the Lahaina establishment has been named the best bar on Maui. An endless flurry of live music and events takes place in this open-air bar, including trivia, karaoke, and weekly DJ parties.
658 Front St # 102, Lahaina
Hours: 7:30 am to 1:00 am daily
$$-$$$
No reservations
18. Monkeypod Kitchen Wailea
Distinguished chef Peter Merriman opened the first Monkeypod Kitchen with a vision of bringing craft beer, live music, and wood-fired pizza to South Maui. With 36 beers on tap, Monkeypod is undoubtedly a hub for craft brews. However, Monkeypod's famous mai tais truly steal the show. The menu extends beyond pizza, boasting anything from pillowy pumpkin ravioli to creative bulgogi tacos. If you've got mai tais on your mind, beeline it to Monkeypod Wailea from 3:30 pm to 5 pm for $4 off craft cocktails.
10 Wailea Gateway Place, Kihei
Hours: 11 am to 10 pm daily
$$-$$$
No reservations
19. Tin Roof
Despite the lack of seating, Tin Roof sits at the top of the ranks of Maui eats. Not surprising, considering the diminutive restaurant is owned by Chef Sheldon Simeon. Tin Roof features a variety of fares inspired by Hawaii's cultural melting pot. Staple menu items include saimin, mochiko chicken, garlic shrimp, and chop steak. In addition, unique daily specials are always on rotation here.
360 Papa Pl Ste 116, Kahului
Hours: 10 am to 8 pm, Tuesday through Saturday
$
No reservations
20. Matteo's Osteria
Matteo's Osteria is an Italian kitchen and wine bar that prides itself on authenticity. Chef Matteo Mistura was born and raised in Sarzana, Italy, where his passion for cooking bloomed. Today, his osteria in the rolling hills of Wailea boasts a multitude of awards, including Best Italian Food on Maui in the 2016 'Aipono Awards. Guests at Matteo's can expect wholly-Italian dishes brimming with color, flavor, and locally sourced ingredients served in an upscale, family-friendly setting.
161 Wailea Ike Pl., A107, Wailea
Hours: 4:30 pm to 8 pm, Tuesday through Saturday
$$-$$$
Reservations recommended
21. Papaʻaina
Located in the historic Pioneer Inn in Lahaina, Papaʻaina is the latest project of prominent chef Lee Anne Wong. Both the Pioneer Inn and Wong boast an impressive backstory. The historic inn was built in 1901 and is the oldest operating hotel in Hawaii. Meanwhile, Lee Anne Wong was a breakout star in season one of Top Chef. Arguably one of Lahaina's best brunch establishments, Papaʻaina's menu features seafood and classic American fare made with local seasonal ingredients.
658 Wharf St., Lahaina
Hours: 8 am to 2 pm daily
$$-$$$
Reservations optional
22. Moku Roots
This homey Lahaina establishment is a multi-award-winning farm-to-table eatery that prides itself on zero waste practices and ingenious plant-based creations- namely, coconut bacon and vegan Reubens. The menu is a collection of colorful veggie-based sandwiches, salads, wraps, and plates that feature 100% locally grown Maui veggies. Moku Roots is void of single-use plastic, and to-go items are wrapped in ti leaves or banana fibers.
335 Keawe St., #221, Lahaina
Hours: 10 am to 8:30 pm, Monday through Saturday. 10 am to 3 pm Sunday.
$$-$$$
No reservations
23. Merriman's Kapalua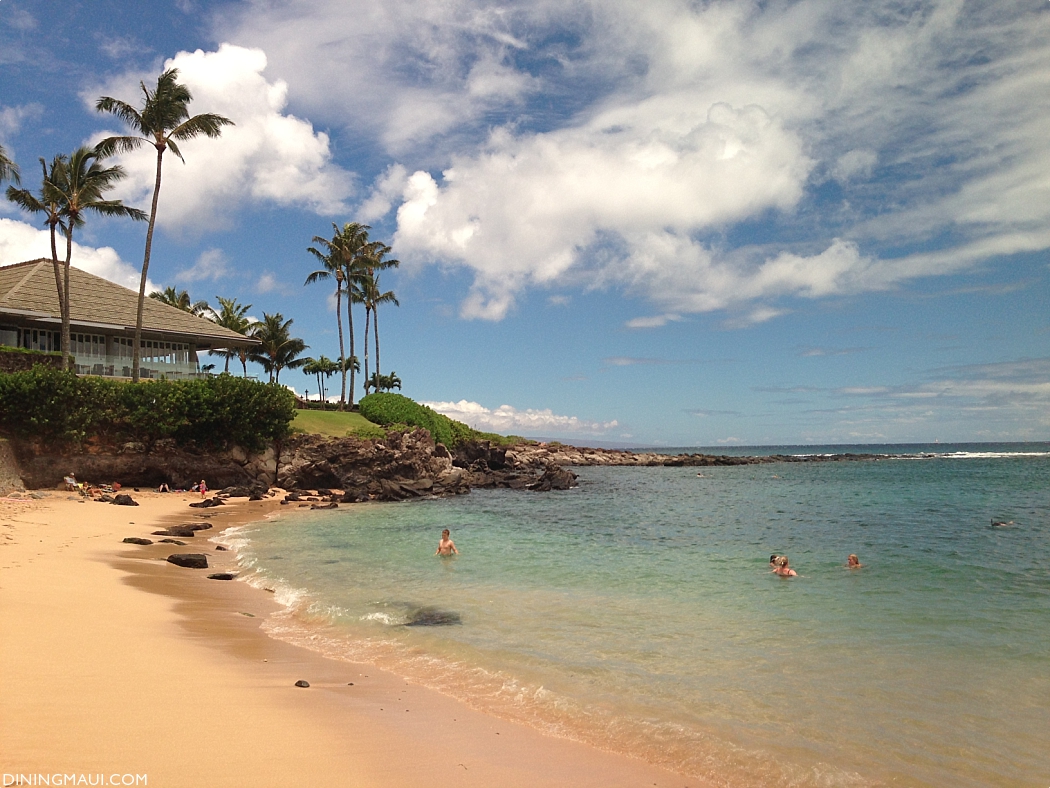 Merriman's Kapalua boasts one of the most breathtaking restaurant venues on Maui. Fringed by swaying palms overlooking the ocean, this elegant establishment serves fresh, farm-to-table meals in a prix fixe format. 90% of the menu is locally sourced, highlighting Maui's bounty of seafood, fresh meat, and produce. Merriman's is one of the best places in Kapalua to enjoy outdoor dining, live music, and ocean breezes.
1 Bay Club Pl, Lahaina
Hours: 4:30 pm to 8 pm daily.
$$$$
Reservations required
24. Sam Sato's
Sam Sato's is a local gem. This Wailuku establishment has been in operation since 1933 and is known for serving some of the best classic local 'grinds' on the island- saimin, dry mein, chow fun, and plate lunches with rice and potato mac salad. Affordable meals and ultra-friendly counter service accompany Sam Sato's humble digs.
1750 Wili Pa Loop, Wailuku
Hours: 7 am to 2 pm, Monday through Saturday
$
No reservations
25. Humble Market Kitchin
Humble Market Kitchin is one of Chef Roy Yamaguchi's many ventures. Located in the Wailea Beach Resort Marriott, the menu at this upscale eatery was inspired by Chef Roy's family roots, with an emphasis on seafood, fresh meats, and Asian flavors. This stunning venue offers breathtaking ocean views and a daily sunset happy hour from 5 pm to 6:30 pm.
3700 Wailea Alanui Dr, Kihei
Hours: 7 am to 10 pm daily
$$$$
Reservations recommended
26. Paia Fish Market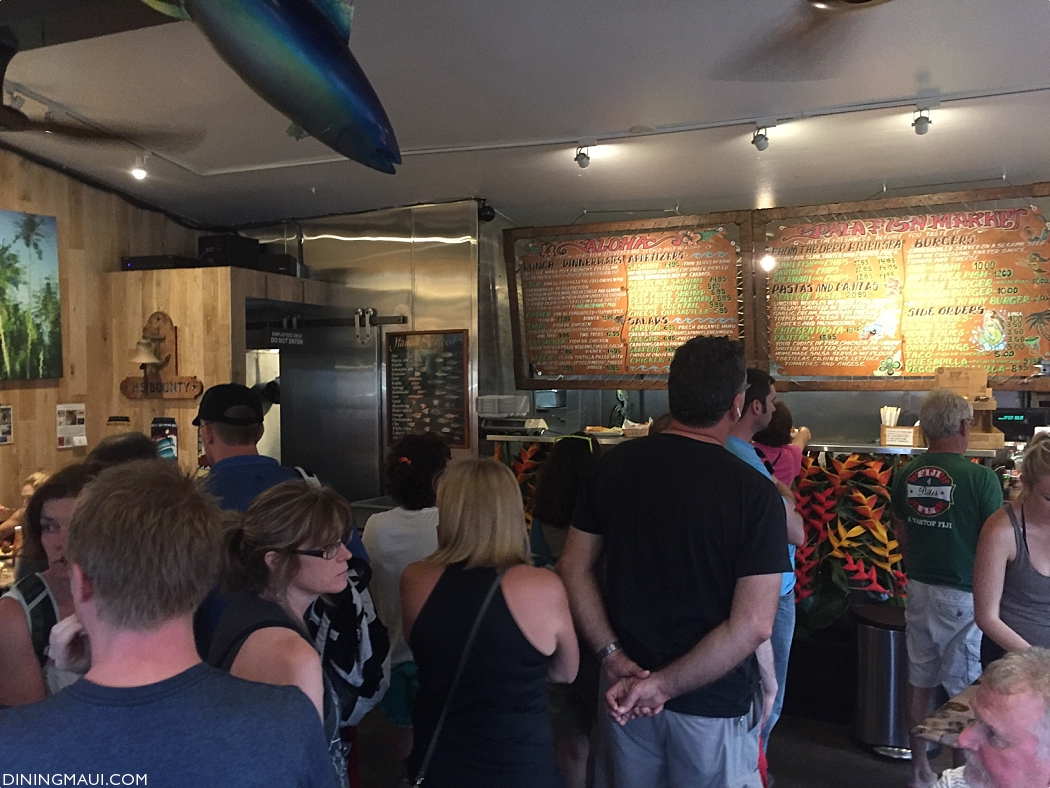 Paia Fish Market got its start in, you guessed it, Paia. Established in 1989, Paia Fish Market has grown substantially and boasts four locations, including one on the Waikiki strip. Here, you'll find a variety of fish prepared and served in countless ways- from burgers to tacos to pasta. Counter service reigns here, and due to Paia Fish Market's immense popularity, expect a line- especially at the original Paia location.
100 Baldwin Ave, Paia
Hours: 11 am to 9:30 pm daily
$$-$$$
No reservations
27. Frida's
Frida's Beach House in Lahaina is a vibrant Mexican cantina serving up fresh, flavorful, traditional dishes. Situated on the oceanfront, this family-owned establishment is best known for its use of fresh seafood, local produce, great atmosphere, and colorful dishes. Frida's was inspired by none other than Frida Kahlo, and her artwork is honored in the restaurant's beautifully presented dishes.
1287 Front St, Lahaina
Hours: 11 am to 9 pm, Monday through Saturday
$$-$$$
Reservations optional
28. Miso Phat
Miso Phat is one of Maui's most acclaimed sushi restaurants. This family-owned and operated sushi joint has been in business for over 20 years and now boasts two locations in Kahana and Kihei. Despite both locations' small interiors, the menu at Miso Phat is extensive, featuring a variety of nigiri, sashimi, and specialty rolls made with fresh fish hand-picked daily.
1279 S Kihei Rd #108, Kihei
Hours: 11:30 am to 8:30 pm daily
$$-$$$
No reservations
111 4310 Lower Honoapiilani Rd, Lahaina
Hours: 11:30 am to 9 pm Monday through Friday, 3 pm to 9 pm Saturday and Sunday
$$-$$$
No reservations
29. Kula Bistro
Kula Bistro is one of Maui's best-hidden gems. This casual bistro is located in the rolling hills of Kula, amid homey general stores and glass blowing studios. The menu is lined with homestyle plates of Italian influence, including paninis, pasta, and pizza. Kula Bistro serves breakfast, lunch, and dinner and is well-known for its pastry counter.
4566 Lower Kula Rd, Kula
Hours: 7:30 am to 10:15 am, 11 am to 8 pm Tuesday through Sunday, 11 am to 8 pm Monday
$$-$$$
No reservations
30. Three's Bar and Grill
Three's Bar & Grill was founded by three local surfers/friends who dreamt of having a catering business so they could surf whenever they wanted. The catering dream came to fruition and was so successful that the trio was looking for a brick-and-mortar location in mere months. Thus, Three's Bar and Grill was born in the Kihei Kalama Village. The menu at this casual eatery features a fusion of Hawaiian, Pacific Rim, and southwestern cuisine.
1945 S Kihei Rd Suite G, Kihei
Hours: 11 am to 9 pm daily
$$-$$$
Reservations optional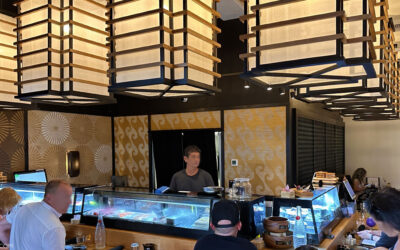 Macadangdang Maui Review. We spent a wonderful day on the West Side of Maui that finished at Macadangdang Maui in Kaanapali.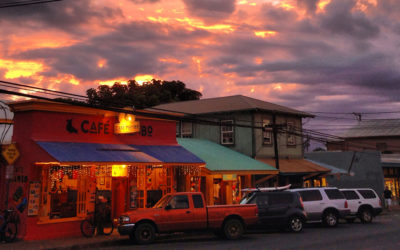 Cafe Mambo Review. Cafe Mambo in Paia on Maui's North Shore upholds the funky, artsy vibe of the town and also serves great food!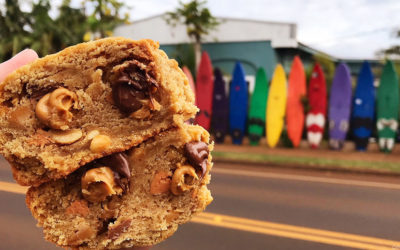 The Maui Cookie Lady Review! Quickly becoming world-famous, The Maui Cookie Lady is serving up huge and delicious cookies you must try!