Maui Chef Interview with Zachary Coltes
Chef Zachary Coltes – Sheraton Maui
At the Hawaii Food and Wine Festival, we had a chance to sit down with the talented sous chef responsible for much of the menus and operations at ROCKsalt as well as assistance and operations at Cliff Dive Grill, Mai Tai Bar, Teppan-yaki Dan, and the Maui Nui Luau.
You used to work in Seattle then came to Maui for Hula Grill. How'd that come to be?
I was working at Nordstrom's Grill, in downtown Seattle, and they kept saying they'd promote me after busy season, but it never happened. So I said, if they don't promote me by my birthday, i'll look for another job. I saw an ad on Craigslist, I believe, that said: COME WORK ON MAUI! YOU'LL LIKE IT! So I applied, and the very next day I had a 2 hour interview with Charlie (Hula Grill), and then another couple hour interview the day after that. They said, "when can you come?" I said 2-3 weeks and packed my stuff and came over. I didn't know what I was doing, I didn't know anyone here, I didn't have a place to stay yet (stayed at a hostel for a week until I found my apartment. And I've been here for 5 years now!
You made it past the 2 year hump! Congratulations!
This place is family to me. I still hang out with all the servers, the cooks. They're some of my best friends on this island. My family on this island. It's a beautiful place.
Maui is pretty special in that chefs tend to share and work together (more than on the mainland or in other kinds of industries.) Competition is still alive and well, but I notice a lot of collaboration and openness among Maui chefs. What are your thoughts on this and does anyone or group of chefs come to mind that personify this?
It's big on the island. Everyone pumps each other up. You know island-style, everyone knows everyone here. Even on the mainland, everyone knows everyone in the industry. Like Chef Chris Consentino. One of our new bartenders who works over there, I heard he was an executive chef at the Royal Lahaina and he quit because his wife was doing well. He wanted to make some money on the side and spend the rest of his time with his kids, which he wasn't able to do before. I was just talking to him and Chef Chris comes up to him and knows him from WAY BACK! And a long time ago in California and even on the East Coast. It's common and just the industry. We're kitchen folk! We're a different breed of people. I've been calling us that since before I was a sous chef when I was a cook in Seattle. These are the people I gravitate to. These are the people that get me and I get them.
When I got my first hotel job, they took us on orientation, and we walked along all the hotels, right there at the Westin. They were showing us everything, and the HR director was really cool, took us into an accounting department where everyone was whispering. He went over to one of the girls working there, cracked a little joke and they whispered chuckles. I thought, Man, I could not live this life! Us kitchen Folk yell, we swear, we crack loud jokes, have fun, fight, laugh, cry. I couldn't live that life, sitting in an office all day long. I'm not built for that life. 9-5 sounds great in theory, but kitchen folk are all artists. When you hear someone telling you passionately about what they're making, it makes you feel good, and it builds you up and makes me want to do better. It's beautiful! I love this industry!
You were previously with Hula Grill. What drew you to the Sheraton?
Chef Lyndon Honda. I was moving to New Orleans 2 years ago, August 31st. I had my entire apartment cleared out, with everything I wanted to keep in a storage unit because I planned on coming back. And I had worked with Lyndon before. I was at the Hula Grill, but I had other jobs because Maui is expensive. I had everything cleared out and was sweeping up. I actually called Chef Charlie to ask if they needed me in today because I had to be out by tonight and have everything cleared out. He said I could stay home and clean. Lyndon calls me while I'm cleaning and says he's at the Sheraton and asked what I'm doing. I say I'm moving off-island. I've got a one-way ticket to New Orleans next week. Chef Lyndon says, "Cancel it. Come work for me, I've got a great opportunity for you." I reply with, "Give me a month in New Orleans, I wanna live the life" He said, "No, I need you now!" So I call my mom to ask what I should do, saying this is huge and how my whole life has been flipped upside down! She says I've got to take it. And now I've been here for 2 years.
As inconvenient as that was, it was actually perfect timing because you were already being uprooted and ready for a change.
I still want to travel and see around while I'm young, and he supports that completely. I'm 27 and want to see the world a little more. That's kitchen folks; we're travelers! You go find a job somewhere and we cook. That's what we do. You can learn something and do something 100 times a day. But you go somewhere else, learn from a different chef in a different area with a different outlook on life, and it can be life changing. OH, I can do this now! Everyone has their own technique and style. So I love to go learn from other chefs.
And you do all the food for the Sheraton Luau as well?
I'm the PM sous chef, and Monday, Wednesday, Friday we do all the luaus. This is the first summer in I don't know how long were we didn't cut one of the days. But we kept all 3 days all summer. This was a busy, busy summer. Oahu is coming over.
I've been to this luau and it's awesome. The food is great!
Yah, yah! The show is great. One of the fire dancers from Maui Nui luau, with Tihati, they do all the shows. This fire dancer is the three time world fire dancing champ. He's fantastic.
What do you think makes your luau feast truly special? What sets the food apart from other luaus.
I don't think anyone else has teriyaki steak on the menu. We try to keep it more authentic. But it's hard because we get guests from places like the midwest that might not be aware of certain dishes or preparations like lomi lomi salmon or poi. But while we make all the food delicious and accessible, we try to keep it authentic with dishes like lomi lomi salmon, poi, pohole fern salad, kalua pig. We took off lau lau, but I wish we still had it on there. We replaced it with the steak, which is a little more approachable. People would say,"what is that big lump of grass?" Once you try it, you know you love it. But you gotta get them to try it first.
How do you accommodate dietary restrictions like gluten free, vegetarians? I know it's a real challenge as the whole world is changing and becoming more aware of their allergies and more adament about their preferences being met. Chefs used to be able to say no, but now, that's not something restaurants can do.
We make everything that anybody could want. Literally anybody wants vegetarian, anybody wants gluten free, shellfish allergies, vegan, we gotta make it. That's not my personal lifestyle choice, I love meat, I'll eat anything. But I understand and there are allergies too. Someone just came in allergic to egg yolk not egg white. And I said OK, and I made it. For the luau especially, we have a set pescatarian dish, vegan dish, just a meat dish, and items for those that are afraid to try the unknown.
The last time I was at RockSALT, I had the chipotle cornbread and the mole short rib. Everything was delicious and the mole short rib blew my mind. So good!
You had the smoked mole short rib? That was me! Ya, I took over when we changed the concept. The first menu was all Lyndon because it was a new concept. Obviously, I helped out with that, but the new menu dropped about a year in and it was all me. He said put yourself out there. The Mole Short Rib was from the vendor Eskimo Candy. Mike came in with some samples and asked if we could do anything with it. I said YAH, how about a fat kalbi short rib. That'd be super, everybody would love that! And not even one week later, I see Chef Alvin from Grand Wailea put out an instagram post sharing that a 2 lbs kalbi short rib, coming soon. I said SON OF A… I knew I should've done it first! Way to be. I'm not good at social media; he's fantastic at it. So he threw it out there so fast. Alright, so now I gotta figure something else out. Lyndon has a great mole recipe that's Mexican approved. We have a lot of Mexican cooks and they love it.
Oh, so Eskimo Candy supplied the rib? I thought they only brought in locally caught fresh fish.
No, they do meat too. Yah, so I used Chef Lyndon's mole recipe. I sous vide the short ribs and it came out fantastic. Very tender. We also make fresh pastas everyday. We bought a pasta press, new dyes. It's exciting because my cooks get excited! My lead PM cook Ron is always asking for new dyes. He's my rock, he takes care all the time. He's very excited and does all the pasta. It's fun! My very first restaurant was in Seattle, voted the number 1 best wine restaurants four years running. It was italian food, it's what I learned when I was 18 years old. I love pasta. I love Italian. That's my go to niche is Italian.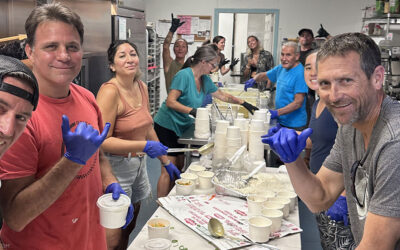 Maui Farmers, Chefs, Restaurants, Purveyors, and Community Volunteers have stepped up to feed the displaced and houseless people of Lahaina and Kula.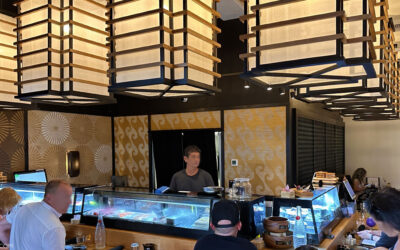 Macadangdang Maui Review. We spent a wonderful day on the West Side of Maui that finished at Macadangdang Maui in Kaanapali.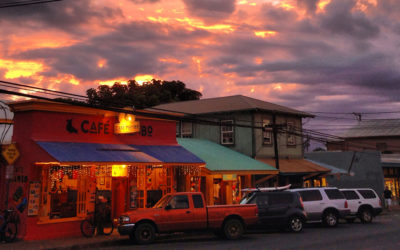 Cafe Mambo Review. Cafe Mambo in Paia on Maui's North Shore upholds the funky, artsy vibe of the town and also serves great food!