Each Saturday morning, long before the sun peeks out behind the soaring Mount Haleakala, dozens of vendors and shoppers alike flock to the Kulamalu Town Center for the weekly Upcountry Farmer's Market.
If you've recently arrived on Maui with goals of supporting local or if you are a resident on a quest for 100% Maui grown fruits and veggies, look no further: the Upcountry Farmers Market is your one-stop-shop for everything grown or made on Maui.
The Upcountry Farmer's Market has been in operation for over 40 years, providing both the Maui community and visitors with fresh local produce. Beyond the spectacular abundance of fruits and veggies, the Upcountry Farmer's Market is also a fantastic place to hunt for unique locally made souvenirs and gifts. Showcasing not only Maui farmers but local chefs, artisans, and artists, the Upcountry Farmer's Market serves as a platform for small businesses to gain exposure and support. Supporting local has always been important, but it has never been more imperative than now.
Keep in mind that vendors come and go or might miss a week or two. We've gotten a pretty solid look at which vendors are there often, so here is what you can expect on your visit to the Upcountry Farmer's Market.
LOTS of local fruits and veggies. As one might expect, you'll find a plethora of local farmers displaying their produce. The Upcountry Farmer's Market is a great place to find seasonal fruits like lychee, dragonfruit, or mango. You'll also discover lots of traditional Hawaiian produce, like ulu (breadfruit), taro, sweet potato, and of course, plenty of fresh coconuts! Produce from Maui's local farmers undoubtedly taste a little fresher, considering it didn't sit on a ship for 3,000 miles across the Pacific. 90% of Maui's food supply is imported, so supporting local farmers is a great way to help Maui become more self-sustainable.
Culinary wonders from around the world. Modern Hawaii has always been known as a melting pot, home to many different cultures and people from all over the world. The Saturday market reflects this rich history with a handful of different food vendors that set up shop every week. Shoppers will often find a little bit of local flavor at Maui Cones, which serves mochiko chicken (a local favorite from Japan) wrapped in a seaweed cone over a bed of rice and smothered in a sweet sauce. The Vegan Miso Ramen booth is also a favorite, serving up hot ramen with local taro, sweet potato, and kale. For a unique twist on a traditional Hawaiian food, look for Maui Ulu. You'll find anything from ulu curry to ulu tamales, and of course, their signature "Pono Pies," which are a delectable guilt-free treat made with ulu from Hana. Beyond that, expect fresh empanadas, Chinese noodles and dumplings, Thai food, Indian food, and fresh pastries. Before heading upcountry for one specific vendor, check the Upcountry Farmer's Market's newsletter on their Facebook page for a list of new vendors and absences.
Local art and goods. It's a habit for some visitors to head to ABC Store for souvenirs, but the Saturday market is a great place to hunt for treasures to bring back home, and it's a huge bonus that almost everything is made on Maui. Shoppers will discover handcrafted ceramics, koa wood cutting boards, locally made totes, handmade jewelry, natural soaps, and so much more. While vendors do come and go depending on their stock, every week has plenty of goodies to browse. This can also make it fun to check back the following week to see if anything new has popped up. Food lovers will also be delighted to find a handful of Maui made salad dressings, spreads, jams, and sauces to bring back home with them.
A thriving sense of community, health, and sustainability. Beyond the local produce, delicious food, and array of crafts, visitors will find messages of health and sustainability radiating from the Upcountry Farmers Market. Along with making a push for Maui to rely less on imported foods, the Saturday market brings the community together each week. Locals come to talk story, and visitors will find there is a compelling tale behind each merchant. Some vendors dress up or write songs about their products to attract attention from shoppers. Others will let you in on their secrets, like the farmer who's been cultivating his turmeric for years, and now swears it is the best in the world. Take the time to stop and chat, and you'll find there is a lot to learn at the market.
The old saying "the early bird gets the word" holds when it comes to the Upcountry Farmer's Market, as this event favors the early shopper. The event runs every Saturday from 7 to 11 am at the Kulamalu Town Center in Pukalani. So set your alarm, pack your favorite shopping bag, and get ready to feel like a member of the Maui community. We'll see you there!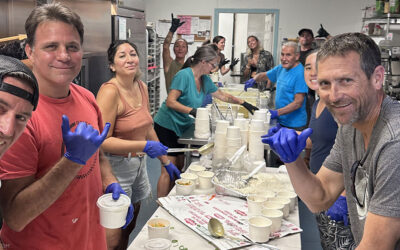 Maui Farmers, Chefs, Restaurants, Purveyors, and Community Volunteers have stepped up to feed the displaced and houseless people of Lahaina and Kula.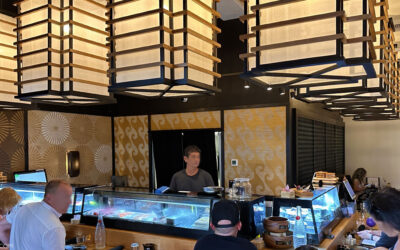 Macadangdang Maui Review. We spent a wonderful day on the West Side of Maui that finished at Macadangdang Maui in Kaanapali.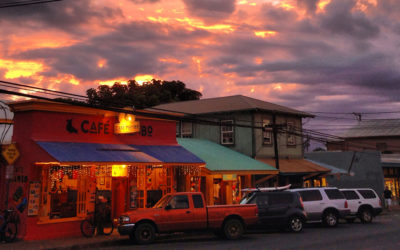 Cafe Mambo Review. Cafe Mambo in Paia on Maui's North Shore upholds the funky, artsy vibe of the town and also serves great food!