Upcountry Sausage Co. Review
Located on the patio at Mahalo Aleworks, you'll find Upcountry Sausage Co grilling up made-to-order sausage sandwiches piled high with a range of toppings and mouthwatering sauces.
30 Kupaoa Street, Unit 101
on Mahalo Aleworks Lanai
Pukalani, HI 96768
(808) 281-5214
UpcountrySausageCo.com
For a little sausage cart, Upcountry Sausage Co serves up some big flavors. Nestled on the patio at Mahalo Aleworks, Upcountry Sausage Co serves freshly grilled, made-to-order sausage sandwiches. And while Upcountry Sausage Co might be located on the patio of a different business, this crafty sausage cart is far from being boxed in. In fact, there is already talk of expansion in the works.
For now, Upcountry Sausage Co and Mahalo Aleworks exist in a delicious symbiosis. You see, Mahalo Aleworks doesn't have a kitchen. Instead, they stick to what they know best: brewing beer. So, when it comes to serving hungry brewery goers, they've let Upcountry Sausage Co take the reins. And the brewery certainly invited the right business to take up residence on their patio- these sausages go perfectly with a locally brewed beer.
There are a handful of designated menu items on offer at Upcountry Sausage Co, featuring a range of sausages from Italian to vegan Beyond Sausage. You can choose between a sandwich that's earned its place on the menu or build your own choosing from a variety of toppings. We went for the Ragin' Cajun Sandwich on our visit- a cajun andouille sausage topped with pepper jack cheese, grilled bell peppers, onions, and pineapple, drizzled with dijon mustard and teriyaki sauce and tucked neatly into a toasted bun. The mouthwatering final product earned Upcountry Sausage Co an A+ in terms of presentation and flavor.
Upcountry Sausage Co. now offers online ordering and will be adding local venison and smash burgers to the menu. On top of that, Upcountry Sausage Co is working on adding monthly 'Celebrity Chef Nights' to the brewery's activity roster. On Celebrity Chef Nights, a notable Maui chef takes over the grill for a few hours, and all proceeds will go to a local charity. Upcountry Sausage Co has already hosted one successful Celebrity Chef Night with prominent Maui chef Jeff Scheer. Jeff took a night off from running his restaurant, Marlow (located next door to the brewery), to grill up some smash burgers and help out Maui's Boo Boo Zoo.
View this post on Instagram
Overall, Upcountry Sausage Co goes above and beyond what you might expect from a humble sausage stand. In addition to a simple and efficient business model, this little sausage cart boasts a motivated staff and exceptional knowledge of flavors (I mean, horseradish sour cream paprika sauce?!). So it would come as no surprise if you start spotting more Upcountry Sausage Co locations or even their own storefront in the future.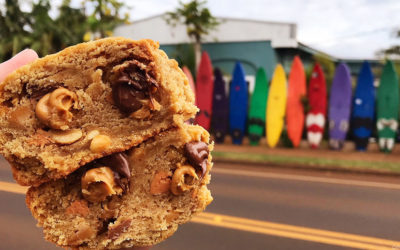 The Maui Cookie Lady Review! Quickly becoming world-famous, The Maui Cookie Lady is serving up huge and delicious cookies you must try!
Maui sushi has a reputation for being some of the best in Hawaii. Here are 10 of our favorite sushi restaurants on Maui.
Kapena's Wood Fired Kitchen Hospitality, great food, and good times are the foundation of Kapena's Wood Fired Kitchen. The chic new pizza joint on Front Street in Lahaina is a product of Trilogy Excursions. The Trilogy ohana has provided Maui visitors with delicious...
Maui Restaurant Reviews
Reviewer
Review Date
Reviewed Item
Author Rating